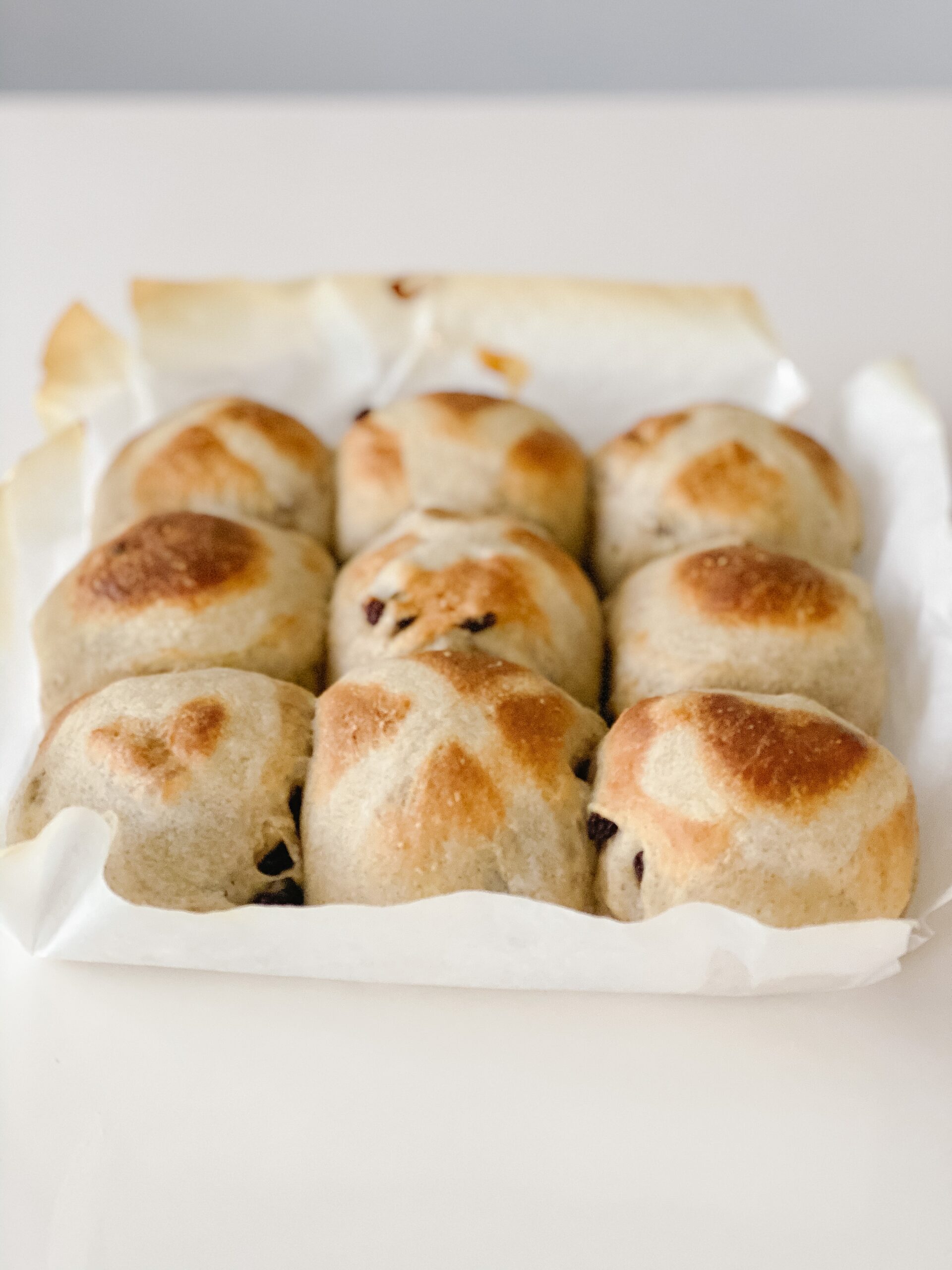 50 g butter – melted
350 g white bread flour
35 g white sugar
1 teaspoon all spice
1/2 teaspoon cinnamon
7 g yeast
140 ml tepid water
1 egg
100 g raisins
Line a 8×8 baking dish with parchment. Set aside.
With the dough hook on your stand mixer, combine the flour, sugar, spices, yeast. While the mixer is running add the water, egg and then the melted butter. Add raisins. Mix to combine. Let the mixture run until the dough comes together and forms a ball. Once it has formed a ball remove from mixer and put into greased bowl. Lightly grease the top of the dough. Cover with plastic wrap and let rise for about 90 minutes. Till doubled in size.
Remove from bowl once double in size. Divide into 9 equal portions. Weighing each at approximately 75 g each. Roll with the palm of your hand into a ball. Place into 8×8 baking dish that is lined with parchment.  Once you have placed all 9 rolls into dish (there should be space between each one) cover again and let rise until doubled and they are touching. About 60 minutes.
For the crosses, hearts and hugs
50 g bread flour
80 ml water
20 g butter – melted
To make the cross, hearts and hugs combine the flour, water and then stir in the butter last, after you've combined the flour and water. It should be a thick paste, making sure there are no lumps. If your dough is lumpy, run it through a fine mesh sieve. Place into pipping bag. Then pipe crosses, hearts and hugs on top of the risen rolls.
Preheat oven to 425°. Bake for about 15-20 minutes. Until brown on top and baked through.