Short Ribs w/ Blue Polenta and Roasted Cauliflower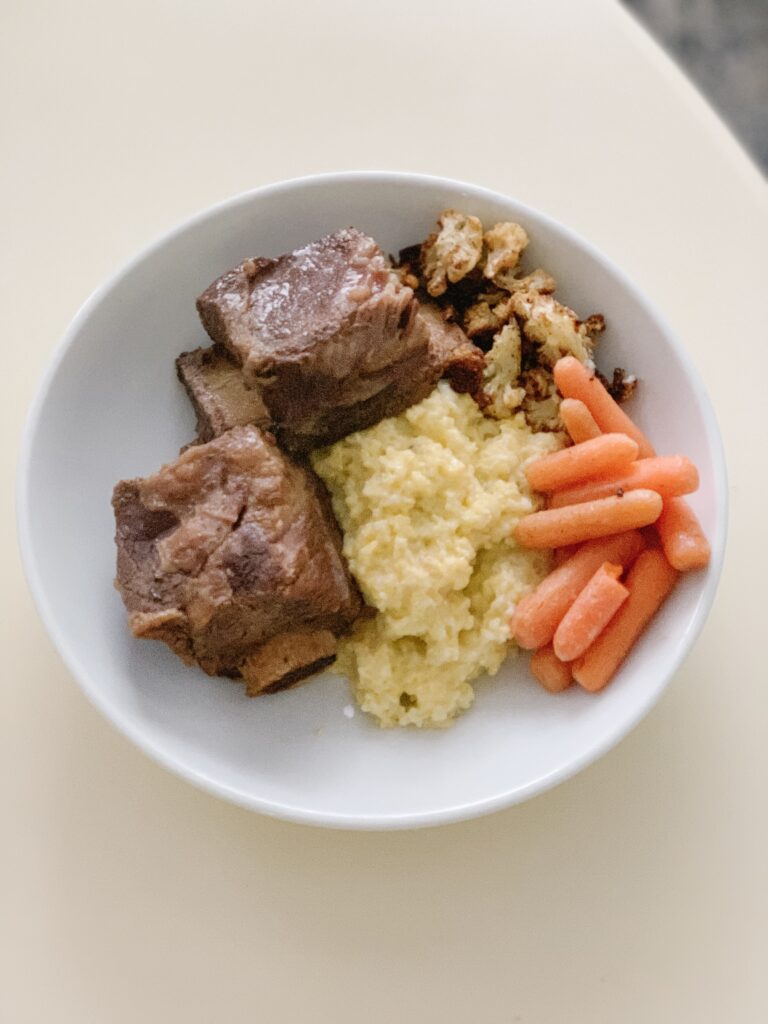 Last night for dinner we had these yummy short ribs and polenta. It was easy and fast and really no time standing over the oven. I just love that!!
Short Ribs
6 Large Short Ribs
Season with salt and pepper. In a saute pan add about 2 Tablespoons olive oil. Over medium high heat, brown each side. About 1-2 minutes. Add to crock pot. Then cover with the following:
3 Cups Beef Broth
1/4 Cup Worcestershire Sauce
1 Teaspoon Salt
1 Teaspoon Rosemary
1/2 Teaspoon Black Pepper
Cover and cook on low for 6 hours.
Polenta
3 Cups Water
1 Teaspoon Salt
Bring to boil. Add 1 cup polenta. Simmer for about 5 minutes. Remove from heat. Cover, let stand 5 more minutes. Stir in 1/4-1/2 cup blue cheese crumbles. Serve hot.
Roasted Cauliflower
1-2 Heads Cauliflower
2 Tablespoons Olive Oil
Salt
Break the cauliflower up into little pieces. Place on a lined baking sheet. Drizzle the olive oil and sprinkle with salt. Toss with your hands to coat everything. Bake 400° for about 20 minutes. Serve hot. (This is also great cold in salads!)
Serve everything together hot. Happy Eating!