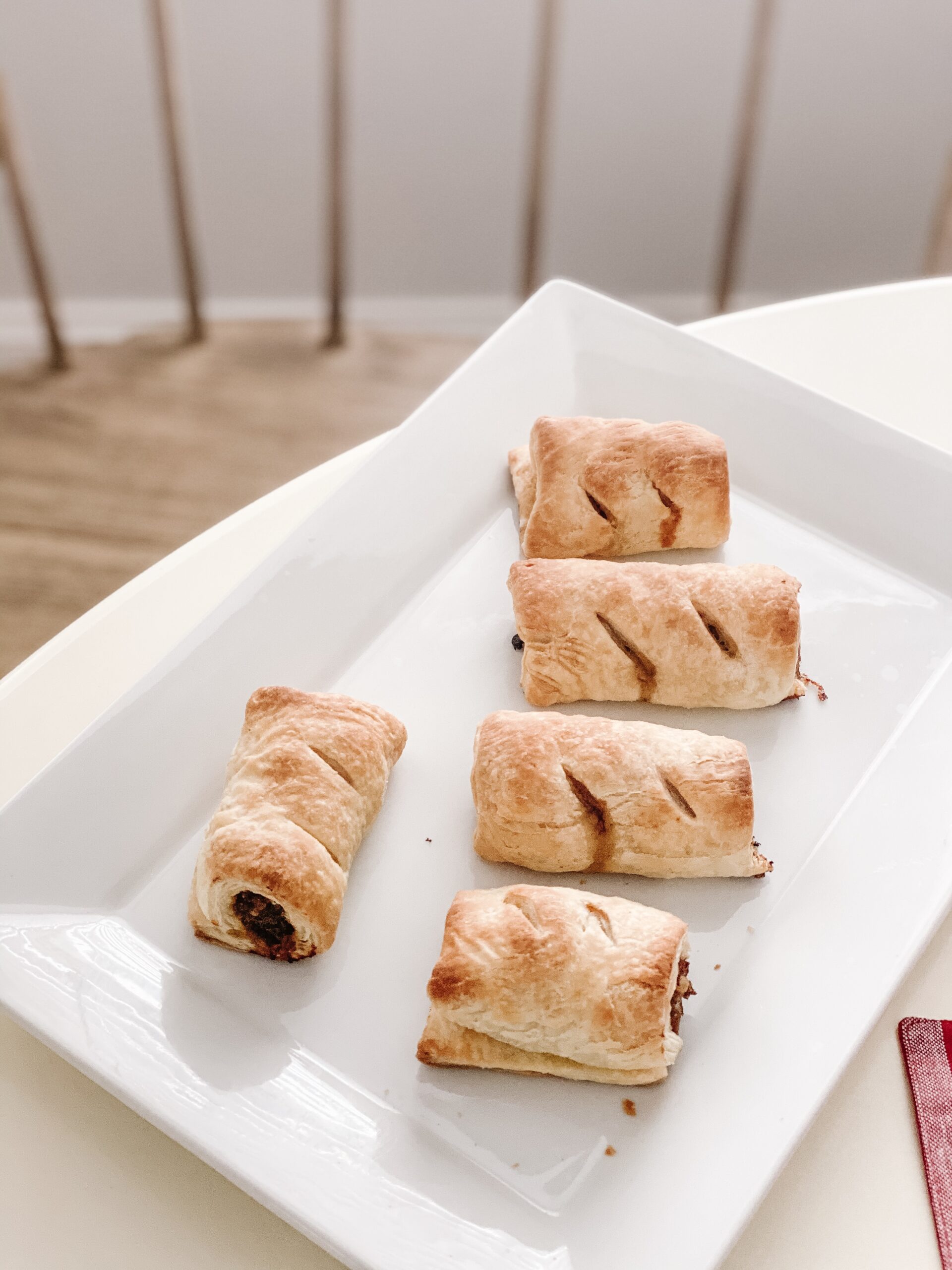 2 pounds jimmy dean sausage – hot
1 package puff pastry
2 teaspoons sage
2 teaspoons rosemary
In a medium bowl combine the sausage, sage and rosemary. Stir to combine. Set aside
Remove puff pastry from freezer. Thaw according to package directions. Once room temp, unfold the puff pastry and roll out to a nice big square.
Take the sausage and line an edge of puff pastry with sausage, stacked a bit high. It should resemble a log of sausage on top of the puff pastry. Fold the sausage over so the edge is now touching the inside of the puff pastry and the sausage in now a log covered in the puff pastry.
With a knife, cut the edge all along the log you created so that it cuts away from the rest of the square of puff pastry. Then take your log and you can either seal it with your finger and an egg or I just gently sealed the edges together by pressing the dough together. Then slice the log into about 3 logs for a dinner portion or about 6 for a fun party treat. With your knife you can cut a slice into the top of each one, this is totally optional – for presentation. It will cook no problem without the slice on top. I've done it both ways.
Repeat with the remaining sausage and puff pastry. Then arrange on a lined baking sheet. Preheat oven to 400° bake for about 15-20 minutes depending on size when puff pastry is browned on top and sausage is cooked.
Serve with some caramelized onions, mash potatoes and veggies. Or at your holiday party as a fun warm treat. Eat right away. Happy Eating!x
Also, if you have questions about the procedure on how to wrap the sausage in the puff pastry, shoot me a message 🙂 It was confusing to write it.x