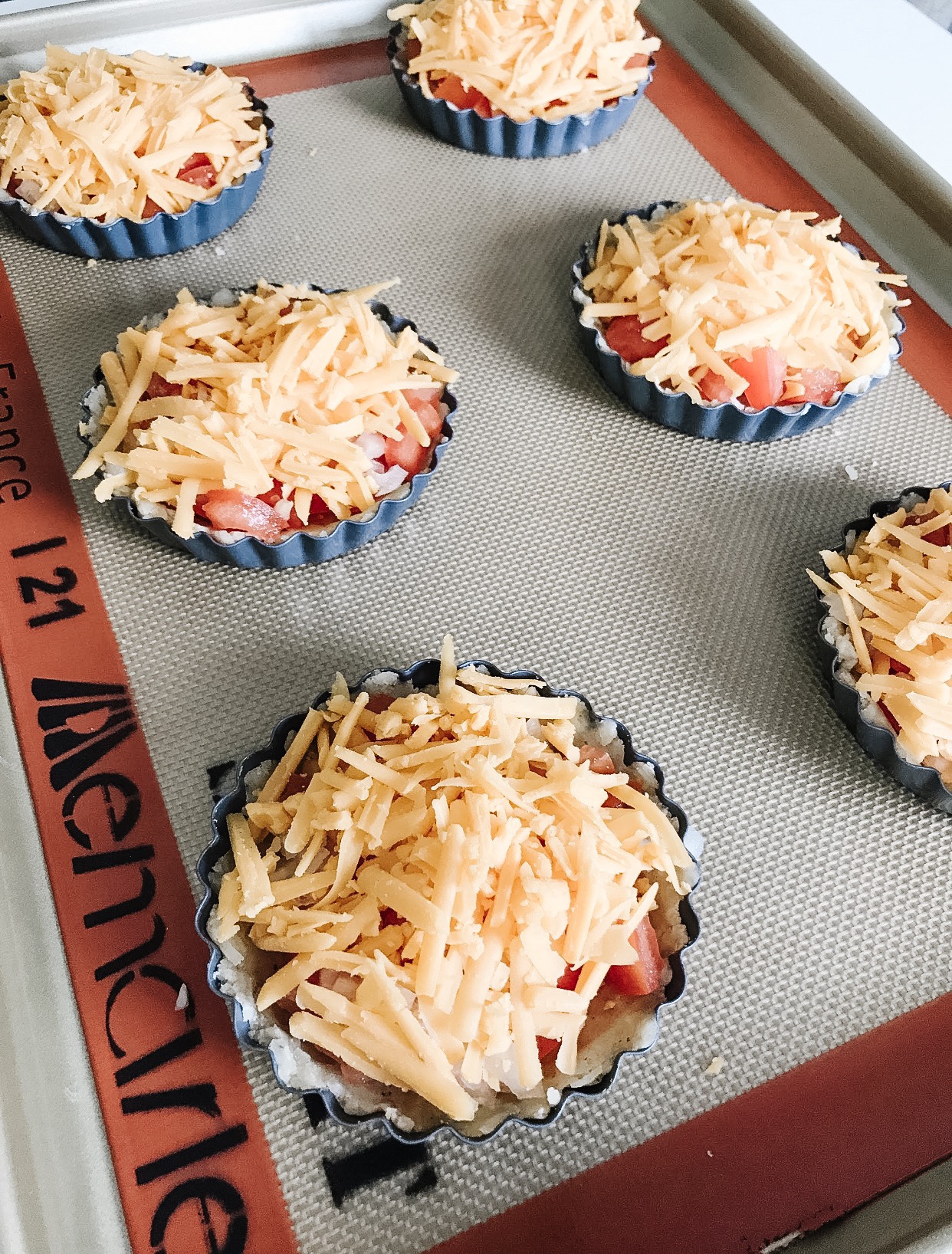 There's a few things I love about summer: spending countless hours adventuring with my family, being outside as much as possible, and trying not to turn the oven on when it's so hot outside. ? If you do turn the oven on this summer, let this quiche recipe be the reason why. It's a great summer meal with tomatoes! I just can't get enough tomato things in summer. They are such a fun ingredient to enjoy in so many ways!x
6 tablespoons butter
1 tablespoon vegetable oil
3 tablespoons water
In a oven safe dish combine. Preheat oven to 410°. Place the dish in the oven and let the roux cook for 15 minutes. Remove from oven, lower oven temperature to 375°.
1 cup flour
1/4 cup parmesan cheese – shredded small
1/4 teaspoon black pepper
In a medium heat safe mixing bowl combine this list of ingredients. Add the cooker roux to the flour mixture. Stir to combine. Let sit at room temperature for about 5 minutes. When it's cool enough to handle, divide into 6 4inch mini tart pans or use 1 9inch pie dish. Once you have formed your crust place into the freezer for about 5 minutes, while you make your filling.
1-2 vine ripe tomatoes – sliced, inside removed (important, if you don't, you'll have a soggy crust) and chopped
1 yellow onion – diced small
1 cup cheddar cheese – grated
Remove your shell(s) from the freezer. Layer your tart shell(s) with diced onion, diced tomatoes and top with cheddar cheese.
1/2 cup whole milk
1/2 cup heavy cream
2 eggs
In a mixing jug combine the milk, cream and eggs. Whisk to combine. Slowly poor the mixture over your filled quiche(s) till they are 3/4 full of liquid. Too much liquid can make them boil over. Top with extra cheddar cheese. In your 375° oven place your tart(s) on the baking sheet and bake for about 35 minutes or until center is set. Remove from oven. Serve warm with a nice salad or fruit. Happy Eating!x ⭐️